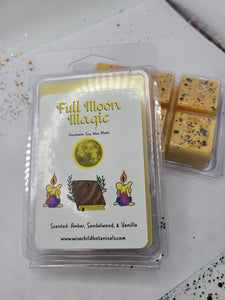 Indulge in the enchanting aroma of Full Moon Magic Wax Melts. This scented amber, sandalwood, and vanilla blend creates a relaxing and soothing atmosphere in any room. Each package contains 3 ounces of high-quality wax that is perfect for use with a wax melter. 
Experience the magic of the full moon with this luxurious home decor item that is perfect for any candle or wax melt lover. Let the rich aroma fill your home and soothe your senses, creating an ambiance of tranquility and comfort.
These Full Moon Magic Wax Melts are crafted from premium quality ingredients to ensure long-lasting fragrance that will transform your space into a peaceful sanctuary.
Transform your home into an oasis of calmness with these melts and elevate your senses to new heights!